Voluntary Benefits: Home and Auto Insurance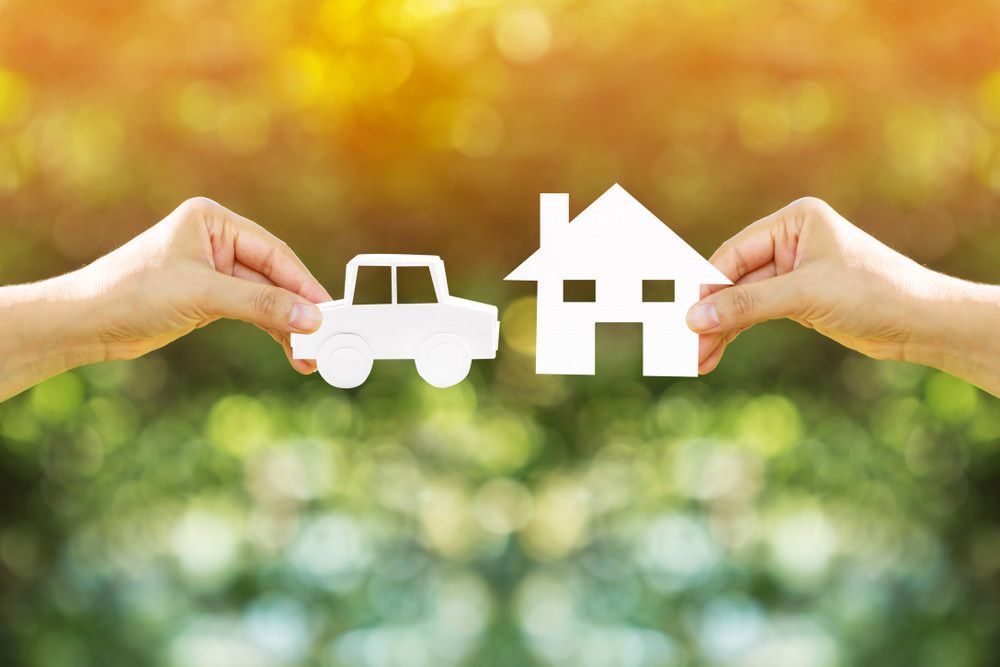 This Know Your Benefits article explains what home and auto insurance is, what it covers and how it works.
You and your family probably spend a considerable amount of time in your home, playing in the backyard and driving to school or work in your car. Your house and automobile are two of the most valuable purchases you've made, and it makes sense that you want to protect your home and automobile with insurance coverage.
What Is Home and Auto Insurance?
Home and auto insurance protects you from large expenses resulting from loss, damage and injury associated with your home, property and automobile. The two types of insurance—homeowners and automobile—are separate products but are frequently bundled, or purchased together, which usually results in a discounted rate. Most states mandate a minimum amount of auto insurance, and many mortgage lenders require homeowners insurance if you want to borrow from them.
Despite the necessity of having it, insurance can seem complicated and expensive. Some employers offer home and auto insurance as a voluntary benefit, which can help simplify getting and paying for insurance. You may receive discounted rates for purchasing insurance through your employer, as well as have the convenience of automatic payroll deductions.
What Does Home and Auto Insurance Cover?
All insurance plans will have specific guidelines and exclusions regarding coverage, so make sure you understand the benefits before making a decision. Coverage availability and requirements may also vary depending on the state you live in.
You will have to choose which types of coverage you want, as well as how much coverage for each category. Listed below are summaries of the commonly offered areas of coverage for home and auto insurance plans.
Homeowners insurance may offer the following:
Dwelling coverage – covers repairing or rebuilding after damage to the structure, including built-in appliances, plumbing and wall-to-wall carpeting
Other structures coverage – covers other buildings on your property such as a garage, shed or gazebo
Personal liability – covers injury or damage to others and their property if you are held responsible; for example, medical bills for someone injured on your property
Contents or personal property coverage – covers clothes, furniture, electronics and other items in your home if damaged or lost due to a covered cause
Loss of use coverage – covers living expenses in the event of a covered loss (such as temporary housing after a house fire)
Homeowners plans typically list covered damages and losses in either an "open perils" or a "named perils" policy. An open perils policy will cover any damages not specifically excluded, whereas a named perils policy will list the damages and losses that are eligible for coverage.
Often, you can add extra coverage to the base plan as long as you are willing to pay a higher premium. For example, many plans will include minimal coverage for items such as jewelry and furs, but you may be able to purchase extra coverage. Likewise, damages caused by flood, earthquake and sewer water backup are typically not included in standard coverage but are sometimes offered as add-ons to your plan.
Some home policies might automatically include minimal identity theft coverage with your base plan, or you might be able to add this coverage for a higher premium.
Auto insurance may offer the following:
Bodily injury and property damage liability coverage – covers expenses when you are legally responsible, including damages and medical bills as well as defense and court costs in case of a lawsuit
Uninsured and underinsured motorists coverage – covers damage or injury caused by another motorist who is not properly insured
Medical payments and personal injury protection (PIP) coverage – covers medical expenses for you and possibly passengers following a car accident
Comprehensive coverage – covers damage from events such as fire, theft and vandalism
Collision coverage – covers damage after a collision with other vehicles or objects
Replacement cost or gap coverage – covers the replacement value of a severely damaged car rather than the lesser, depreciated value
Other items such as towing or emergency roadside services coverage can also be added to your policy depending on the insurance company offerings.
How Does Home and Auto Insurance Work?
When offered as a voluntary benefit through your employer, home and auto insurance premiums can typically be paid through a payroll deduction. The two products will often be bundled together, and, with a group rate, you will likely pay a discounted premium that is better than if you had purchased insurance on your own.
In addition, many insurance plans offer discounted rates for meeting certain safety and precautionary measures. For auto insurance, this may include having airbags, anti-lock brakes or anti-theft devices, as well as earning good grades (for students) or meeting safe driver qualifications. For homeowner's insurance, discounts may be awarded for installing protective devices such as smoke detectors and alarms, interior sprinkler systems and security systems such as deadbolts and alarms. Also, some home insurance plans may offer a discount if you recently purchased the home or have been loss-free for a specified time period.
When submitting a claim, do so as soon as possible because many policies have a time limit for claim submission. Depending on what the claim is for, make sure you keep any police reports for a theft or car accident, retain receipts for everything and take photographs of damages.
Generally, your plan will have a deductible to meet, which is the amount you are responsible for before the insurance company will pay. For example, if your car suffers covered damages that require $1,200 in repairs, and your auto policy has a deductible of $500, you will be reimbursed for the $700 that it cost after you met your deductible. Additionally, your insurance plan may have a "split limit," meaning different parts of your coverage are subject to separate deductibles and maximums.
If your employer offers home and auto insurance as a voluntary benefit, check out how you can save on premiums and enjoy greater simplicity with payroll deductions.
---